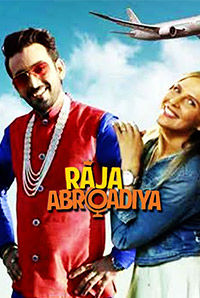 TRENDING STORIES
See More
SYNOPSIS
A rich village boy Raja's ego is hurt when another villager's son returns from abroad with his foreigner wife. In order to keep up with his royal status in the village, Raja announces that he, too, will become an 'abroadiya'. In the process, he meets Preety, who dreams of travelling abroad and wants to change her social and economic status, and the two crack a deal of helping each other in achieving their respective goals.
Verdict: An entertaining blend of romance, comedy, and drama. Raja Abroadiya is an amusing tale of Indians falling in love abroad. Delivering lots of laughs, blooming romances, and some captivating drama, this rom-com is a sure shot joyride. Loads of fun characters keep you delighted from beginning to end. What's Raja Abroadiya about: The movie []...
...Read full review
A rich country bumpkin vows to go abroad and marry a white lady and get a foreign citizenship when his ego is hurt by a village drunk during a silly altercation. He seeks the help of a pretty visa agent to accomplish his mission, but life has other plans for him.
...Read full review