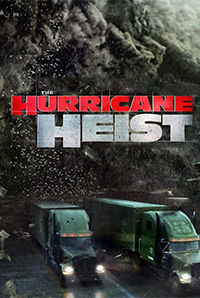 The Ultimate Storm for the Perfect Heist
TRENDING STORIES
See More
SYNOPSIS
A crew of thieves plans the ultimate heist, to steal 600 million dollars from the U.S. treasury facility located on the Gulf Coast of Alabama using a hurricane as their cover. When the storm blows up into a lethal CATEGORY 5 and their well-made plans go awry, they find themselves needing a vault code known only by one female Treasury Agent, a need that turns murderous. But the Treasury agent has picked up an unlikely ally, a meteorologist terrified of hurricanes but determined to save his estranged brother kidnapped by the thieves. He uses his knowledge of the storm as a weapon to defeat the bad guys in this non-stop action/thriller.
Verdict: This heist film is high on action. Hollywood is all about action this week, with the releases of Tomb Raider and Hurricane Heist. While the former is an action-adventure film based on a video game, Hurricane Heist is an action-crime-disaster movie all rolled into one. Directed by Rob Cohen (director of The Fast and the Furious), the film has a []...
...Read full review
As a category 5 hurricane looms over the sleepy town of Gulfport, Alabama, residents are compelled to evacuate the area by local authorities. Meteorologist Will Rutledge (Toby Kebbell), who has been sent to collect reports on the approaching storm, is trying to convince his brother Breeze (Ryan Kwanten) to leave town with him.
...Read full review
People who viewed this also viewed