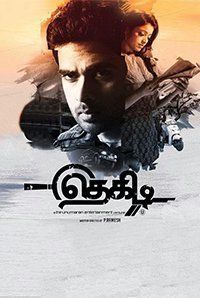 The adventures of a detective who unravels significant facts behind a series of murders.
No shows available for this movie.
SYNOPSIS
The film revolves around the lead hero, played by Ashok Selvan, a detective and a postgraduate in Criminology who very skillfully tries to use his criminology skills to unravel some noteworthy facts behind a series of murder mysteries.
Karthik Keramalu (bollywoodlife.com
Ashok Selvan of Soodhu Kavvum and Pizza II fame plays the role of a private detective in the film. He is hired by a detective agency. There is one rule for the detective he should not, in any situation, approach his subject. But as luck would have it or we might call it the script, the detective falls in love with Janani Iyer. Janani Iyer is supposed to be a subject about whom the detective agency requires some details. Just when Vetri (Ashok Selvan) prepares himself to confess, he finds himself in a mess. The details he collected about certain people as part of his job die, one by one. He soon finds out that there is a pattern in their death. All of them have been killed in accidents. He is knowledgeable enough to learn that the next victim would be Madhu (Janani). He goes through a lot of trouble and enters and exits buildings to bring the truth out from a shallow field.Jayaprakash plays the role of a police officer. He believes Vetri is innocent and follows whatever Vetri says. One clue leads to another, and then another, and finally the murderer and the motive are revealed. Thegidi has an open climax indicating a sequel, just like the Vijay Sethupathi starrer Pizza.
...Read full review