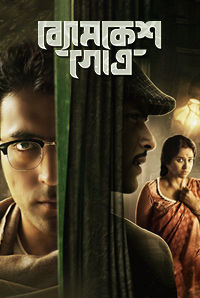 TRENDING STORIES
See More
SYNOPSIS
Convinced that his life is in jeopardy, Satyakam, the son of a business magnate hailing from Mussoorie, approaches Byomkesh with a plea for help. The legendary detective soon heads to Mussoorie, where he finds out that the youngsters worst fears have come true. Can Byomkesh unravel the mystery shrouding Satyakam's murder before it is too late?
If you are expecting a re-run of the signature Arindam Sil Byomkesh flick thats racy and thrilling, youll be a mite disappointed with Byomkesh Gowtro. But if youre a fan of the Satyanweshis depth of knowledge and deduction skills, this film is certainly up your street.
...Read full review
In a film this dark, it is only appropriate that the villain has the meatiest role. In a throwback to the classic noirish characters inhabiting a grey world between good and bad rakish and vulnerable at the same time Arjun is effective right through.
...Read full review