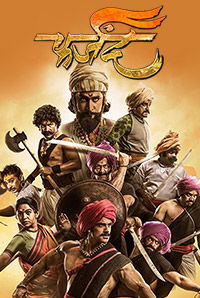 TRENDING STORIES
See More
SYNOPSIS
Adil Shah, the ruler of Konkan and Maharashtra, waged a war against Shivaji Maharaj after he successfully established Swaraj in the parts falling under his reign. Owing to his big army and cunning mind, Adil Shah captured Panhala Fort and dismissed every effort of Shivaji Maharaj in recapturing the fort. Now a matter of prestige, Shivaji Maharaj's army had to recapture the fort in any way possible. Farzand is the tale of Kondaji Farzand and how he led Shivaji Maharaj's greatest 60 warriors to victory in capturing Panhala Fort.
CAST
Mrinal Kulkarni
Actor
As Jijabai
Chinmay Mandlekar
Actor
As Chatrapati ...
Neha Joshi
Actor
As Kamali
Mrunmayee Deshpande
Actor
As Kesar
Prasad Oak
Actor
As Bahirji Naik
Sameer Dharmadhikari
Actor
As Beshak Khan
Nikhil Raut
Actor
As Kisna
Aastad Kale
Actor
As Gondoji
Rahul Mehendale
Actor
As Anaji Pant
Ajay Purkar
Actor
As Motyaji Mama
Pravin Tarde
Actor
As Martya Ramoshi
This historical film pays tribute to the unsung hero of the Maratha empire Sardar Kondaji Farzand, Shivaji Maharajs braveheart and disciple of the great Tanaji Malusare, who managed to conquer the fort of Panhala from the reigns of the Adilshahi empire, against all odds with just a bunch of 60 mavalas.
...Read full review
The historical epic was a genre truly lost to Marathi film industry until now. In the black and white era, renowned filmmaker Bhalji Pendharkar is credited with many such films, most set in the days of King Shivaji and promoting a thinly veiled propaganda of nationalist thought. In independent India, the audience had little use for nationalist views, and budget constraints in the Marathi film industry made it difficult to handle such an ambitious subject. If successful, Digpal Lanjekars Farzand can be a reboot of this once popular and significant genre.
...Read full review