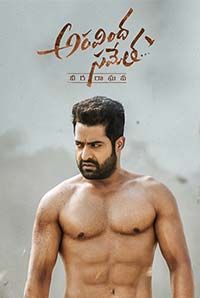 TRENDING STORIES
See More
SYNOPSIS
The young scion of a powerful family with a long legacy of violence decides to put an end to the bloodshed - a journey that will also take him down a path of self-discovery.
Verdict: Trivikram's magic and Tarak's rampage stir up a brilliant storm. In a career spanning two decades, both Jr. NTR and Trivikram have time and again proven their mettle by delivering blockbuster hits and have also sprung back whenever their movies were a dud in the box office. In spite of sharing a close camaraderie, it took them two decades to work together. The remarkable box office op...
...Read full review
All it takes to make a solid commercial film is to redefine it in relevance to the times. It`s not often you`d find a lead character asking people, `what`s so heroic about holding a dagger or slapping your thigh`. It`s refreshing to watch NTR remain his controlled self in the film`s entirety. Pooja Hegde gets a credible role as a budding documentary filmmaker, though it`s hard to fathom an actor like Eesha being saddled into a role of nothingness. Trivikram`s fascination for mythology lends well with the theme and the treatment scores over his indulgence this time. And Thaman`s evolution as a composer truly benefits the film. A emotional drama camouflaged in a commercial exterior, here`s a film that`s courageous to stand apart from slapstick madness.
...Read full review