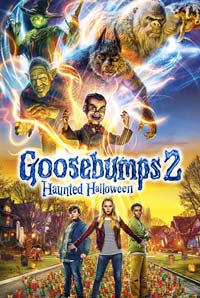 TRENDING STORIES
See More
SYNOPSIS
It's Halloween and two young boys accidentally unleash Slappy the Dummy and a group of Goosebumps monsters who wreak havoc in their town. Will they be able to save their town from Slappy's evil intentions?
Verdict: A fun kid-friendly adventure that`s the perfect amount of scary. Goosebumps is undoubtedly one of the most popular children`s book series in the world. The first film adaptation was a roaring success which led to the sequel. And Goosebumps 2: Haunted Halloween couldn`t have come at a better time. As October ends, it`s a perfect watch for the whole family to get into the Halloween spirit. ...
...Read full review
Quirky teenagers saving the day from supernatural things is always a safe bet in cinema but not when the potential to do more was so much more; this way Goosebumps 2 could actually be the nail in the coffin for the franchise. It doesnt quite build a serviceable bridge between horror and comedy, with the former having too little presence in the film especially when a film with Halloween in its title promises much more of it. Its time filmmakers stopped assuming that kids these days shouldnt be exposed to macabre horror theres far more terrifying things they see on an every day basis out in the real world. If horror cinema is their avenue at escapism, let them have the real deal and not sanitised substandard products.
...Read full review
While the story line will engage kids, grownups will find their attention wavering, `Goosebumps 2` is predictable but fun. The animation on this one is top notch. Writer Rob Lieber of `Peter Rabbit` fame has scripted a decent story, tied all the loose ends and left more than enough room for yet another sequel. The casting is bang on and Jeremy Ray Taylor and Caleel Harris essay their roles well as two bullied boys trying to right a terrible mess that they have created. Madison Iseman kicks some righteous butt as the older sister and gives a credible performance. Jack Black as the author RL Stine makes it count in his appearance which can only be called a cameo. The movie could have been made better had he been given more of a role to get in on the action and battle the monsters. It could also have been better if there was more of smaller characters like Ken Jeong, the childless and childlike neighbour who is wickedly excited that his monsters from his favourite horror novel have come to life.
...Read full review