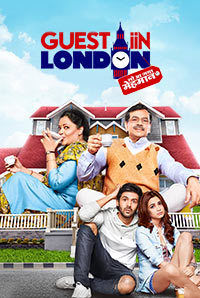 TRENDING STORIES
See More
SYNOPSIS
Guest iin London is a film that deals with an odd old couple from rural India who lands up uninvited as guests in a suburban London home of a young couple. What follows is a series of misadventures one after the other turning the young couple's lives upside down.

On another level, the film also captures the socio-cultural differences between the east and the west and in the end with the realization that east or west we all are the same, the emotions are the same and the fact that all we need is love and compassion for each other.
Verdict: Paresh Rawal acts as the perfect torturous guest, yet again. Somehow following the same lines of Atithi Tum Kab Jaoge which released in 2010 comes Guest iin London with the same director, Ashwni Dhir, but a different place and an almost different cast. Starring Kartik Aaryan, Kriti Kharbanda and Paresh Rawal in the lead, []...
...Read full review
Guest Iin London is shot entirely in foreign locations, so there`s a bit of a fresh vibe to the setting. While that works in favour of the film, the comedy just isn`t good enough. Ajay Devgn makes a brief cameo, but despite all attempts at making this film a masala entertainer, it never manages to rise above a trite script and some lackluster execution. Even if this film had good music, there would`ve been a silver lining to talk about. But there are no such redeeming qualities at all.
...Read full review
Guest Iin London has its share of contrived twists and turns, but nothing that make those 138 minutes interesting for the viewers.
...Read full review
People who viewed this also viewed