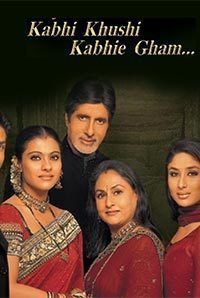 It's all about loving your parents
No shows available for this movie.
Hindi
Drama
Musical
Romance
SYNOPSIS
A wealthy businessman, Yashvardhan Raichand, disowns his adopted son, Rahul, after he marries a middle-class girl, Anjali, against his will. Years later, Yashvardhan's younger son, Rohan, vows to reunite his family.
CAST
Jaya Bachchan
Actor
As Nandini
Rani Mukerji
Actor
As Naina
Hrithik Roshan
Actor
As Rohan
Amitabh Bachchan
Actor
As Yashvardhan Rai
Shah Rukh Khan
Actor
As Rahul
Kajol
Actor
As Anjali
Johny Lever
Actor
As Haldiram
Farida Jalal
Actor
As Daijaan
Kareena Kapoor Khan
Actor
As Pooja
Alok Nath
Actor
Simone Singh
Actor
Jugal Hansraj
Actor
Sorry! None of the critics have had a chance to review this movie yet.
People who viewed this also viewed