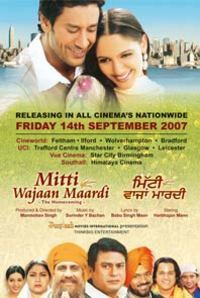 No shows available for this movie.
SYNOPSIS
Mitti Wajaan Maardi revolves around Punjabis who go abroad and settle their in search of better future. But they find themselves trapped in circumstances and unable to return to their homeland.
It centers on a Punjabi guy called Surjit Singh who travels to America. He goes away without his wife and his two year old daughter. He doesnt find it any easier even then. He has to remarry and snap all his ties with his family back in Punjab.
After some time Surjit settles down in California and goes on to become a rich landlord. He has a son Varyam from his second marriage. But he has hidden this truth from his son. Surjit unfortunately has few days remaining to live due to unexpected change of fate. So he musters up all the courage and reveals his past to Varyam. Surjits last dying wish is to unite his family so that his first wife will perform last rites.
Will Varyams stepmother accept his request?
Sorry! None of the critics have had a chance to review this movie yet.
People who viewed this also viewed