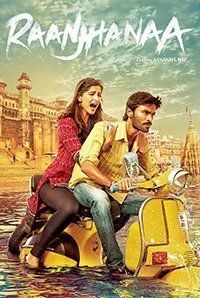 TRENDING STORIES
See More
SYNOPSIS
First love in anyone`s life holds a special place especially if the memory is filled with the vibrant musings of the city that you grew up in. Benaras holds a special place in Kundan`s heart because not only did he grow up as a typical, god fearing, shiv bhakt-Pandit but also because it was the city that gave him Zoya. Quiet, beautiful with mischievous eyes, Zoya was the girl of his dreams. She was like a breath of fresh air, the first time he saw her on the busy streets, sitting regally in a Tonga. He would follow her everyday to the bazaar, back to her house till one day he mustered the courage to speak to her and tell her his true feelings - his 13 year old heart, smitten by her simplicity.

She of course doesn`t take him seriously and brushes him off. Time passes by and Zoya moves to Delhi for further studies. Love, they say is a feeling that only grows stronger with time and Kundan`s love for Zoya never diminishes, he carries his feelings all through college and his heart flips when Zoya comes back to his town. With Zoya back in Benaras, Kundan is excited as he thinks of telling Zoya how he feels. Zoya finally meets Kundan and confesses her true feelings to him. She is in love but with Akram, a college friend from Delhi and she wants Kundan`s help in marrying him. His world shatters and the rage Kundan feels is inexplicable. He is torn between his true feelings for Zoya and his hearts pleas to help her get her true love because who could understand that pain better than him. He sets out to unite her with Akram and what follows is a tale of love, betrayal, redemption and healing set against the very rooted town of Benaras and the upbeat political environs of Delhi.
Shubha Shetty-Saha(Midday)
There is this unique energy in Aanand L Rais films, the earlier one being `Tanu Weds Manu` and now `Raanjhanaa`. Colourful and vibrant, but laidback and subtle. It was Kanpur in `Tanu Weds Manu` and in `Raanjhanaa`, Varanasi gets lucky. In this film, Varanasi is captured beautifully. But interestingly, it is the backdrop to the characters and never the please look at my landscapes and get awestruck kind of way (cinematography by Natarajan Subramaniam and Vishal Sinha). In a way, that makes this film more beautiful. And in a way, that also reflects in the most interesting character of this film, the unassuming but fiercely passionate Kundan, the beauty of whose character is not in your face but subtle and endearing, nevertheless.
...Read full review
Raanjhanaa is a love story that has a Shakespearean touch and is mounted on a lavish scale. Set in Benaras, in a sense, the heart of India, the first half in the vibrant city where the Ganges flows, just sweeps you off your feet with its colour and feel. The plot follows Kundan (Dhanush), a Tam-Bram settled in Benaras. A slight vagabond, he falls hopelessly in love with Zoya (Sonam Kapoor), a fairly affluent Muslim girl in his neighbourhood. And his feelings are beautifully conveyed through dialogue written by Himanshu Sharma and songs composed by Rahman.
...Read full review
A good way to measure the success of a love story is to ask yourself how much you want its protagonists to end up together. Raanjhanaa is about a young Hindu boy in Benares and his unwavering love for a Muslim girl who doesnt see him as anything more than a friend. From the moment were first introduced to them as children him dressed as Shiva, her performing namaaz it becomes clear there can be no love story here. Yet, Kundan (Dhanush) has been crazy about Zoya (Sonam Kapoor) ever since they were little. Convinced shell change her mind, he pursues her relentlesslythroughout their school years, and well after she returns from Delhi on completing college, unaware that shes already in love with a boy she met on campus (Abhay Deol in a cameo).
...Read full review