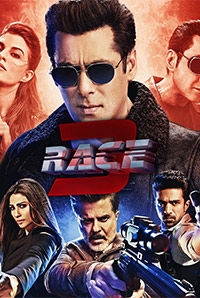 You don't need enemies when you have a family
SYNOPSIS
The third installment of Race comes with high octane action and drama dealing with a family involved in crime, where people change colours in the blink of an eye. When Sikandar (Salman Khan) is entrusted with a high stakes heist, we discover a dysfunctional family on the verge of self-destruction. But in a world of unexpected twists, everything is not as it appears.
CAST
Salman Khan
Actor
As Sikander
Anil Kapoor
Actor
As Shamsher
Jacqueline Fernandez
Actor
As Jessica
Daisy Shah
Actor
As Sanjana
Bobby Deol
Actor
As Yash
Freddy Daruwala
Actor
As Rana
Saqib Saleem
Actor
As Suraj
Pooja Hegde
Actor
Aditya Pancholi
Actor
Narendra Jha
Actor
Vikram Gokhale
Actor
Rajesh Khattar
Actor
Parul Chauhan
Actor
Sorry! None of the critics have had a chance to review this movie yet.
People who viewed this also viewed