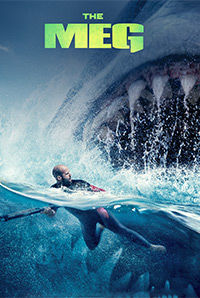 TRENDING STORIES
See More
SYNOPSIS
A deep-sea submersible-part of an international undersea observation program has been attacked by a massive creature, previously thought to be extinct, and now lies disabled at the bottom of the deepest trench in the Pacific...with its crew trapped inside. With time running out, expert deep-sea rescue diver Jonas Taylor is recruited by a visionary Chinese oceanographer, against the wishes of his daughter Suyin, to save the crew and the ocean itself from this unstoppable threat: a pre-historic 75-foot-long shark known as the Megalodon.

What no one could have imagined is that, years before, Taylor had encountered this same terrifying creature. Now, teamed with Suyin, he must confront his fears and risk his own life to save everyone trapped below...bringing him face to face once more with the greatest and largest predator of all time.
CREW
Jon Turteltaub
Director|
Lorenzo Di Bonaventura
Producer|
Harry Gregson-Williams
Musician|
Dean Georgaris
Screenplay|
Jon Hoeber
Screenplay|
Erich Hoeber
Screenplay|
Gerald R. Molen
Executive Producer|
Barrie M. Osborne
Executive Producer|
Tom Stern
Cinematographer|
Steven Kemper
Editor|
Kelly Matsumoto
Editor|
Verdict: Jason Statham wrangles a 75 feet shark. Enough said. Everyone loves a good shark attack movie. A typical shark movie has tons of action, thrilling altercations, the occasional beach scene, and the right amount of entertainment for you to forget about everything else. Director Jon Turteltaubs The Meg promises to give us exactly that, while Jason Statham goes face-to-(giant)-face with an...
...Read full review
Monster movies are meant to be CGI spectacles that make for mindless fun flicks. `The Meg` is no different with its straightforward premise. Hollywood`s obsession with sharks date all the way back to 1975, so this film is mainly an excuse for Jason Statham to take on a massive shark underwater. A big enough action star like Statham calls for a decent budget to be committed to this endeavour. This is evident as the CGI is a few notches higher to make it appear better than a B-grade flick.
...Read full review
The Meg delivers exactly what its advertising campaign promises, with no unexpected surprises, pleasant or otherwise. See! Jason Statham locked in combat with a 75-foot prehistoric man-eater for two hours, or thereabouts. Thrill! At our bullet-headed hero repeatedly snatching victory, or at least survival, from the literal jaws of defeat. Gasp! At a genuinely enticing action-movie premise, executed with charm and reasonably persuasive CGI. Swoon! At the realisation that within a few years, every second hundred-million-dollar film might look like this, thanks to the new influx of Chinese money into Hollywood.
...Read full review