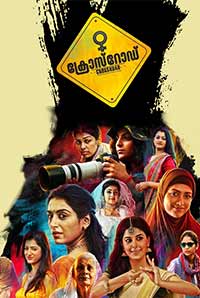 SYNOPSIS
Crossroad is a first -of-its-kind portmanteau movie celebrating womanhood and tells the story of ten women, facing ten different life situations and explores how they tackle it. The movie encompasses ten feature films of fifteen minutes each, with each featuring prominent female artists from Malayalam film industry as the protagonist and is directed by a prominent Malayalam filmmaker. The movie showcases the vibrant facet of each woman and tells the story from her perspective.
CAST
Mamta Mohandas
Actor
Isha Talwar
Actor
Padmapriya
Actor
Mythili
Actor
Srindaa
Actor
Priyanka Nair
Actor
Richa Panai
Actor
Punasseri Kanchana
Actor
Manasa
Actor
Anjana Chandran
Actor
Vijay Babu
Actor
Rahul Madhav
Actor
Manoj K. Jayan
Actor
Kochu Preman
Actor
Kottayam Pradeep
Actor
Sidhartha Siva
Actor
Anjali Aneesh Upasana
Actor
Joy Mathew
Actor
Seema G. Nair
Actor
Munshi Venu
Actor
Babu Annoor
Actor
CREW
Babu Thiruvalla
Director|
Ashok R. Nath
Director|
Nemam Pushparaj
Director|
Avira Rebecca
Director|
Sasi Paravoor
Director|
Madhupal
Director|
Lenin Rajendran
Director|
Pradeep Nair
Director|
Albert
Director|
Anil Kumar
Producer|
Parthan Mohan
Producer|
P. Deepu
Producer|
P.F. Mathews
Writer|
Jayaraj
Writer|
Salin Mankuzhy
Writer|
Viswajith
Musician|
Bijibal Maniyil
Musician|
Ramesh Narayan
Musician|
Sooraj S Kurup
Musician|
M. Jayachandran
Musician|
Like the name of the movie suggests, the film delves into important moments in the lives of a bunch of women and how they deal with these situations. Ten completely disconnected stories, they which are trials and tribulations that happen in protagonists lives.
...Read full review
That was my situation while I watched the new Malayalam movie Crossroad which is a compilation of 10 films by 10 directors focusing on femininity.
...Read full review
People who viewed this also viewed