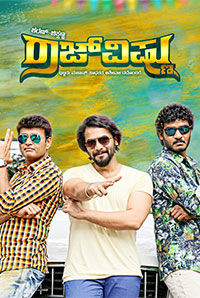 SYNOPSIS
Raj Vishnu is the story of a young and unemployed person who fulfills his grandfather's wishes with the help of his friend and how he succeeds in love. The movie, which has Sharan, Chikkanna and Sahdukokila also has the 'Roaring Star' in a guest appearance. The music is composed by Arjun Janya.
Raj Vishnu is a wastrel, who is the grandson of a wealthy zamindar. He falls in love with Lavanya, but her father dislikes the fact that he has no job. Raj Vishnu`s grandfather decides to sell his property and help his grandson. But there comes a big hurdle for the family.
...Read full review
Raj Vishnu starring Sharan, Chikkanna and a host of comedy stars of Sandlwood is a film for the entire family. The film has laughs every minute and every scene. It is not an unusual film but a good comedy entertainer all along. All the events in the film are made for comedy and you will get to laugh even in the action scenes. That is the way the film has been conceived.
...Read full review
People who viewed this also viewed