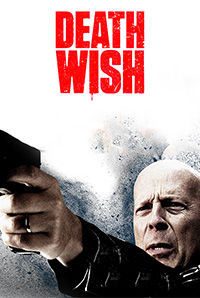 How far would you go to protect your family
TRENDING STORIES
See More
SYNOPSIS
Metro-Goldwyn-Mayer Pictures presents director Eli Roth's reimagining of the classic 1974 revenge thriller Death Wish. Dr. Paul Kersey is a surgeon who only sees the aftermath of Chicago violence as it's rushed into his ER - until his wife and college-age daughter are viciously attacked in their suburban home. With the police overloaded with crimes, Paul, burning for revenge, hunts for his family's assailants to deliver justice. As the anonymous slayings of criminals grabs the media's attention, the city wonders if this deadly avenger is a guardian angel...or a grim reaper. Fury and fate collide in the intense, action-thriller Death Wish.
Verdict: Bruce Willis gracefully delivers this action-packed thriller. You know you are walking into a heavy action film when you hear the name - Bruce Willis. Riding high on the success of the Die Hard series and movies like Unbreakable and Pulp Fiction, he rarely disappoints moviegoers. This time, he is starring in the remake []...
...Read full review
A remake of the popular 1974 film of the same name starring the late Charles Bronson in the lead, both films are inspired by a book written by Brian Garfield. In this version, Dr Paul Kersey (Bruce Willis) leads a busy yet content life with his wife Lucy Kersey (Elisabeth Shue) and daughter Jordan (Camila Morrone) in Chicago. As someone who regularly tends to crime victims as part of his daily routine in the ER, Paul is used to hearing tales about the felonies that increasingly plague the area.
...Read full review
Paul Kersey (Bruce Willis) is a surgeon, and since as a doctor he is involved in the business of saving lives, he naturally abhors violence. He goes to a Sunday football game to see his daughter play, where a grouchy old man mouths expletives at the players to encourage them to play better. Paul, who sees this, asks him to ease off. But when the old man readies himself for a fight, Paul`s wife steps in between to protect him, and the old guy taunts him with hiding behind his wife.
...Read full review