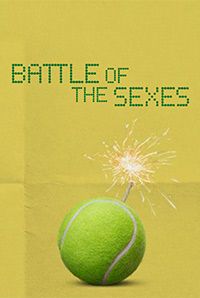 TRENDING STORIES
See More
SYNOPSIS
In 1973 battle lines were drawn when ex-champion and master hustler, Bobby Riggs challenged the then World number one women's champion Billie Jean King to a Battle of the Sexes match. While on court the match addressed the all important gender equality issue, off of it, Riggs and King were fighting their own personal battles.
CAST
Sarah Silverman
Actor
As Gladys Heldman
Bill Pullman
Actor
As Jack Kramer
Austin Stowell
Actor
As Larry King
Lewis Pullman
Actor
As Larry Riggs
Martha MacIsaac
Actor
As Jane Bartkowicz
Wallace Langham
Actor
As Henry
Mark Harelik
Actor
As Hank Greenberg
Fred Armisen
Actor
As Rheo Blair
Chris Parnell
Actor
As DJ
Alan Cumming
Actor
As Ted Tinling
Andrea Riseborough
Actor
As Marilyn Barnett
Emma Stone
Actor
As Billie Jean King
Eric Christian Olsen
Actor
As Lornie Kuhle
Steve Carell
Actor
As Bobby Riggs
Elisabeth Shue
Actor
As Priscilla Wheelan
Sorry! None of the critics have had a chance to review this movie yet.